Are you looking for unique, economical and extraordinary walkway and garden decor ideas? You also want mix of traditional and modern landscaping ideas. If yes then believe me slate walkway is the most convenient and economical way of landscaping your home garden or exterior and is considered as one of the best garden decor ideas. You can make the slate walkways, put slate tiles close to your flower beds, keep the irregular slate tiles at the center of your garden as a garden decor. Use garden slate for this purpose.
Garden slate tiles are available in varied colors so your slate walkway can be unique by using different colors of slate stone. Among all black and red are the most popular colors to make slate walkways. Black slate walkway has its own smashing appeal.
Slate walkways have the durability and strength that of concrete with the unique texture. If you do not want slate tiles then you can get the slate planks. These look like wood planks and available in different length and width for garden decor.
Slate Walkway Shapes
Slate walkway can have all shapes of garden slate tiles that can be used for landscaping. This will create elegance with tranquility. The shapes that can be used to make slate walkways are
Diamond
Rectangular
Oblong
Triangle
Octagon
Square
Irregular
Either you can use the single shape of the combination of these shapes. Most of the slate walkways are made from irregular shapes. The unspoken beauty created by the slate walkways in your garden will be appreciated by all. These are the perfect example of artistic impression and charm.
The best part of any slate walkway is its anti slip quality. Also slate stone walkway will not be affected by chemicals although acids and bleach can affect it.
Slate tiles
are widely used in residential as well as commercial places as these are very easy to work with. Commercially slate tiles can be used in buildings, curbsides, public pavements, pavillions and at residential places it can be used in walkways, flooring, kitchen slabs, kitchen backsplash, walls and steps. Also many construction companies use slate stone as a landfill material for rail and road projects.
Slate Walkway Installation
Garden Decor with Slate Walkway
This beautiful slate stone walkway is made of irregular slate tiles that are placed directly on the ground after levelling it. You can allow the grass to grow from the gaps between the slate tiles for a natural look.
Slate Walkway at Your Backyard
You can create the neat and clean look with slate walkway at your backyard. Here instead of grass you can add grout for more even look. Either you can pick the colored or non colored grout to make the slate walkway. The irregular shapes and different colors look fantastic here.
Black Slate Stone Walkway
This slate stone walkway is made from irregular slate tiles. The curves given look beautiful as enhancing the garden decor.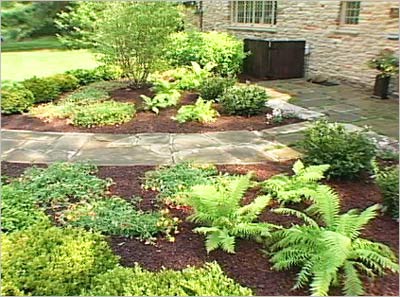 Grey Black Slate Walkway: As Garden Decor
Cut your slate tiles in a way you want. Place these to know hoe these look before installing them. Also before slate tile installation level the ground by putting or removing sand. Not you can directly place the slate tile and sow some grass between the gap. You can also fill the gap with sand or grout.
Red Slate Walkway
Red slate walkway on the somewhat barren fields is merging with the color of the soil. The light pink colored grout is further adding the touch of class in this slate stone walkway.