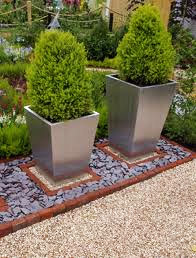 Stone Slate Chips
Slate, the durable stone used for construction is also available in the form of slate chips. Either naturally occurring or mechanically chipped, these easy to use slate chips, can be simply spread over the area, which needs to be covered. They can be applied directly on top of grass or dirt. These are available in various colors. Because of this these are mostly used for
landscaping
.
Slate Chips Usage
Slate chips are used as a base for paths and larger pieces as fences. The naturally occurring slate chips are widely used as topside material. Slate chips can also be used with a synthetic weed barrier to cut down or eliminate weed growth. A barrier that allows water penetration is recommended. To achieve attractive and professional looking results, make sure to completely cover the barrier with a generous layer of slate chips. Indian slate chips will have same color as the Indian slate tile. Slate chips manufacturers and suppliers supply all kinds of these natural stone material. Try to get this from the slate chips wholesale supplier as then you will have almost same quality of material. Also get it is bulk to maintain the consistency.
Slate Chips Application
Landscaping is one area where stale chips are used most abundantly. You can use it in the flower beds, around the flower pots and can also make some aesthetic design in your garden.
You can beautifully place the slate chips along the slate walkway and pathway.

Slate Chip Walkway



Slate chips can also be used on the flooring along with slate tiles and slabs.
Slate Stone
:
Slate Tiles
|
Slate Slabs
|
Slate Strips
|
Slate Chips