The slate backsplash is a popular focal point in modern kitchen designs. Slate backsplashes are available in different colors, styles and designs.
Slate backsplash
in kitchen adds color, depth, texture and style to a kitchen. The backsplash is the main area for accumulating heat and what best to facilitate it with slate backsplash. No doubt slate backsplashes are great decorative surface, which also serves a function when you put them on your wall mounted counters and by the sink so as to prevent water from touching the main wall. However there are ceratin disadvanntages associated with slate back splash.
Let us check the pros and cons of slate backsplash
Pros: Advantages of slate backsplash
First of all, let us look at the advantages of the slate backsplash. The most significant advantage of the slate backsplash is its looks. Being a natural material, slate stone offers a very unique and stylish look to the kitchen, exuding a natural character. It is a great match for most materials. They are available in a wide assortment of colors to match with the entire decor of the kitchen. They are very contemporary and stylish and that is why they are considered one of the most popular accents used for kitchens. Also can be used in outdoor settings.
Check out some beautiful images of
Kitchen Slate Tile Backsplash
Besides the look, slate stone backsplash has good compatibility with water. This material is not affected by water due to its waterproof qualities. Because of this, it is also very easy to clean up. You can place the backsplash by the gas stove and if there are any streaks from grease, just wipe it off . There wont be any damage or stain in the material. Being waterproof, slate backslash is considered the perfect material for kitchen designs.
In terms of expenditure the backsplash tiling is not an expensive element for your kitchen if you choose the slate backsplash. These are the least expensive of all other products but are fruitful in giving the greatest sober looks.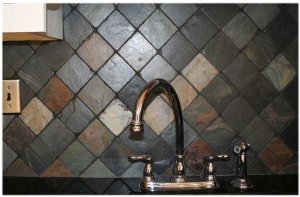 Kitchen Backsplash
Cons: Disadvantages of Slate Backsplash One of its main disadvantage is its brittleness. This is one of the biggest drawbacks of using the slate backsplash. Care is necessary if you use such material. The slate backsplash could break with a significantly strong force. Chipping and breakage goes along with the slate tile backsplash.

The slate kitchen backsplash requires some sealing component. No doubt it is resistant to water but for that you have to seal the surface. You have to do this periodically to prevent staining due to many causes. This is necessary if you want to extend the life of the material but then doing it annually is quite a chore.

Check out more infomation on Slate Sealers

Slate is heavy like other stones and so requires special tools and materials for installation.