27 Jan 2011- Slate stone is one of the most widely used material for landscaping. Decorative slate stones are considered to be the most popular natural, affordable, and durable landscaping option. They add beauty to the outside appearance of your home, your lawn or garden. With beautiful trees, flowers, including stone walls, fountains, and landscapes, your home's surroundings become very attractive. We present below few simple ways of making a beautiful landscape using slate stones.
Creating a Rock Path
You can create a rock path using slate stones. In this way you can protect your lawn from being trodden upon. It is very easy to do this. Find a path space in your garden and then place either a single or double row of slate stones down to form a footpath. These colorful stones look beautiful. With time, they blend in more with your landscape as you see molds growing over then and look very natural. Different colors of slate stones in varied shapes can be used to give a more colorful look. This kind of a decorative
stone landscaping
project can be done on your own but you can also hire landscaping professional to get the best looking rock path.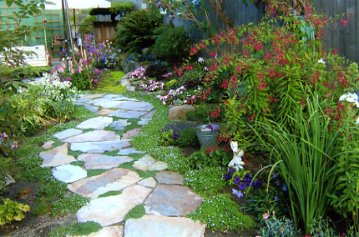 Slate Stone Path
Camouflage Damaging Landscape
Since slate stone are very durable, another way in which you can use the stones is to camouflage and hide a troublesome or damaging area of your landscape. If you have any land portions which are not in a good shape, then don't opt for planting or vegetation. Rather transform the space into a decorative slate stone landscaping project. Cover the area with stones of varied shapes and plant few plants in between. You will have a beautiful landscape in front of you.
Slatestone Landscaping
Slate Stone Wall Cladding
Another way to decorate your outdoor space is to use slate stones for outdoor structures. Patios that are constructed out of slate stone look more natural and beautiful. They seem to blend with plants and grasses. You can also surround your garden space with stone walls. Instead of stone pathways, this is another stone landscaping project that provides beauty, security and splendor to any landscape.
Slate Stone Wall Cladding
Install a Stone Fountain or Pond of Fireplaces
You can also have structures like fireplaces or fountains in your garden . They come in all shapes and sizes and can easily become a focal point of your garden. Such stone structures make them appear to be rise up out of the landscape as if formed by the earth itself. Choose a decorative slate stone for such structures.
Slate Stone Pool/Fountain