If you are looking for some unique yet workable landscaping ideas, you have stopped at the right place! Everyone today prefer to have slate landscaping designs for outdoor landscaping. However, this doesn't mean that slate can't be used for interior landscaping designs. Because the slate stone is durable, ease to care, and beautiful, there are many options when using slate in landscaping. Slate stone can be cut into fixed uniform shapes or left in its natural state. Whether for for use in modern or formal designs, or for a more casual look, the slate stone becomes the most favourite choice. Available in a wide range of colors, from the classic gray to more unusual shades like brown, green, red, and black, the addition of slate stone or slate tile will make your landscape, whether interior or exterior, the focal point of your home.
Landscaping Ideas with Slate: Photo Gallery
This photo gallery features slate stone landscaping ideas. See these marvelous slate landscaping pictures in this photo gallery and know how efficiently can slate stones and slate tiles be used for interior landscaping as well as outdoor landscape designs for patio, backyard and garden lanscaping.
Exterior Landscaping with Slate Stone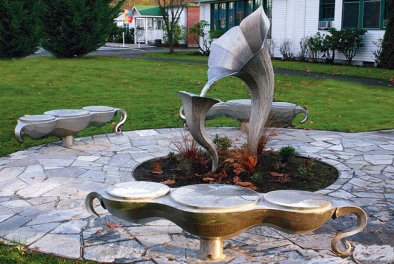 Slate Stone Landscaping with Fountain
Outdoor Landscaping with Slate Stone
Unique Slate Landscaping Idea
Backyard Landscaping Design
Interior Landscaping with Slate Tiles Wall
Patio Landscaping with Slate & Wood Flooring
Slate Waterfall for Garden Landscaping
Know more about
Slate Landscaping